Your cartridge and battery should both last about 30 days. Once your cartridge and/or battery is low, you will automatically receive a banner in your app to service the monitor. This will prep the device and walk you through how to change the cartridge and battery.
What we'll go through:
Best practices:
Always begin Service Mode on your app by clicking the "Enter Service Mode" button. Please do not open the device, or change the cartridge prior to starting this process. Failure to do so will result in inaccurate readings and can cause damage to the device.
Always replace both the cartridge and the battery at the same time. (the only exception is if the battery has reached 0% and requires power to proceed)
Make sure the Sutro is dry on the outside. This includes drying off the tether enough to prevent any droplets from getting inside the Sutro during the change. A good idea is to leave the Sutro monitor out of the water for about an hour before the change.
Going into service mode:
The service mode banner is triggered when your battery reaches 25% or when the cartridge reaches 15%. Click on the banner to enter service mode.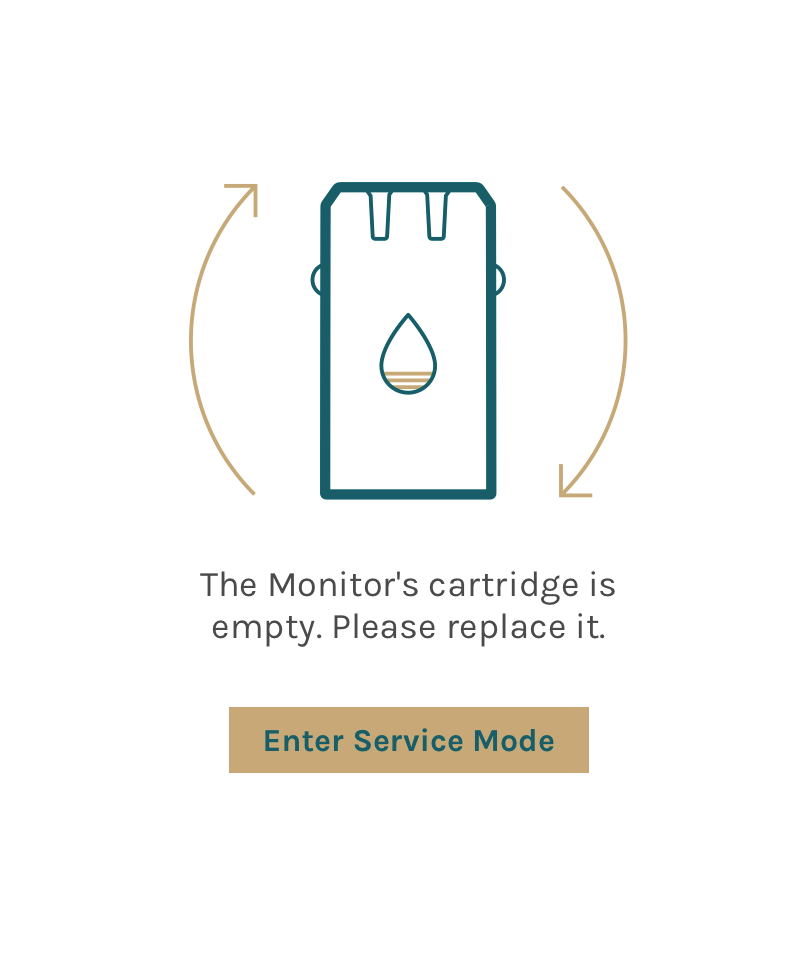 Make sure to prepare the following before you proceed to hit "My device is out of the water"
You have the replacement cartridge
The extra battery is fully charged
The device is out of the water and dry
The device lid is closed tight
Once you hit that button, the device will prep for the cartridge change. Throughout the cartridge process, there are pins at the bottom of the device that slowly push the reagents out of the cartridge to take a reading. Going into service mode resets the pins for the new cartridge. It will also flush water out of the device.
Replacing the cartridge and battery
Once the service mode is complete, the app will move forward to the next screen.
Open the lid, and pull up until the core is clicked securely in place.
Take out the used battery, and replace it with the new one. It should click into place and the LED above the battery should be blue.
Take out the cartridge and replace it with the new one. It should click into place.
Close the device and twist the lid until it clicks in place.
The app will then run security checks to make sure everything is in place. When prompted to on the app, place the device in your pool or spa.
Taking readings
After you put the device in the water, it will go through another series of security checks and go through a calibration period. Please allow 24-48 hours for your readings and recommendations to fully stabilize, as your unit undergoes a process to learn your pool's specific water chemistry.