It's best practice to keep your second battery charging in the hub at all times. That way, it's already fully charged when it's time to do a battery and cartridge change.
Press on the indent on the top of the hub to open it
Place the battery in the battery slot as shown. Make sure that the gold contact line up.
Close the lid of the hub
The LED will turn red to indicate the battery is charging, then turn back white after a few seconds.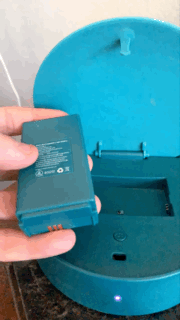 To check the battery status, quickly press the pairing button inside the Hub.
Slow flashing red means the battery is charging
Rapid flashing red means the battery is not seated properly
Flashing green means fully charged.